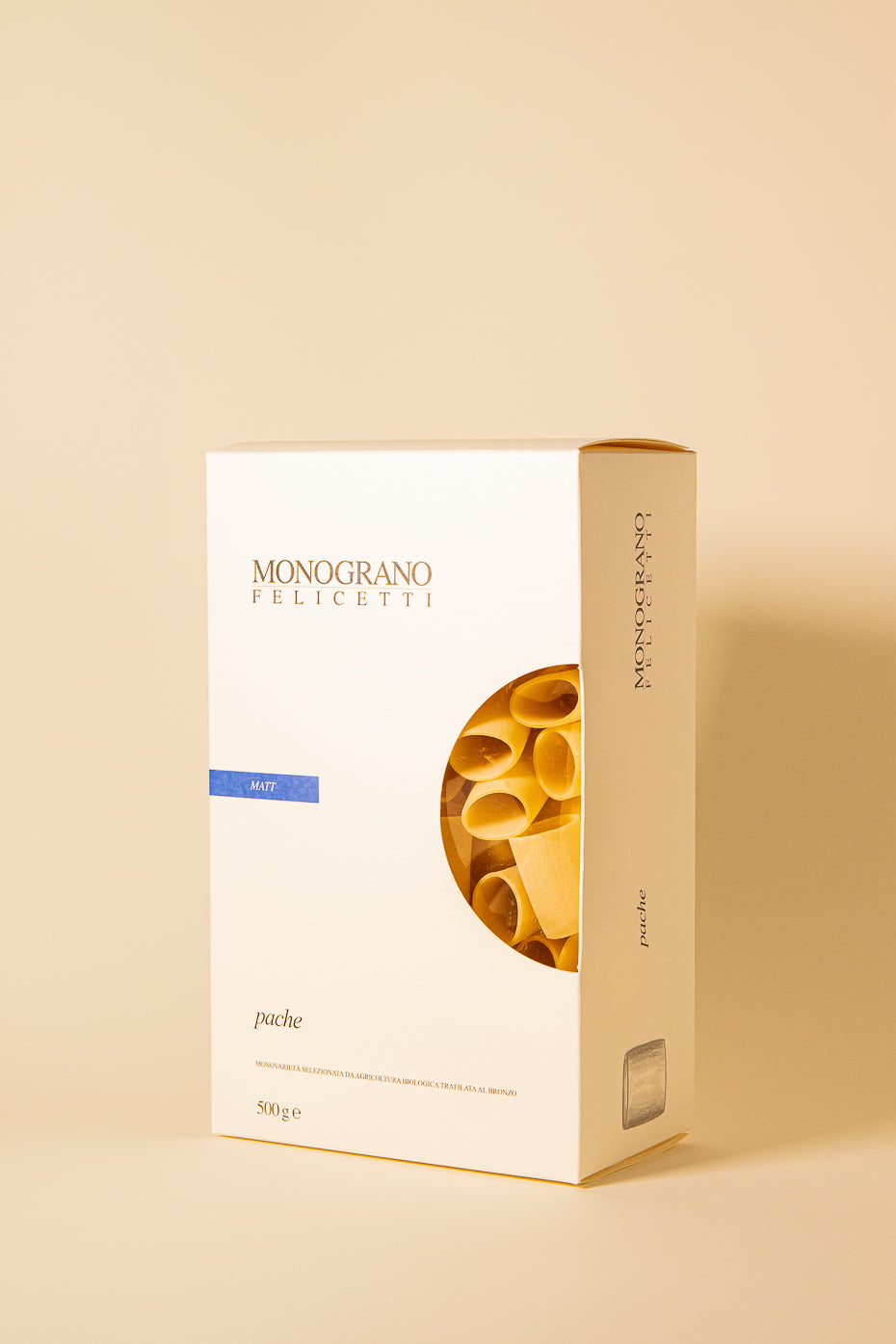 Monograno Felicetti | Pache Matt Wheat 500g
500g
Sometimes artisanal craft, passion, family bonds and dedication are met by technical savvy, forward thinking and entrepreneurial skills. When it happens, the results can be surprising, innovative, and yet still respectful of ancient traditions. 
One such case is Monograno Felicetti, a family business that steadily grew without compromising one bit in quality. Ancient grains are organically farmed in Puglia, their flour combined with the minerality of the Dolomiti mountains water flowing directly into the Felicetti pasta factory from their exclusive spring. Beautiful mechanical bronze dies cut and form the pasta into a variety of shapes, of which we chose our three favorite ones for our web shop:
Pache | Matt Wheat - this is a slightly more off-beat pick: a bit bigger than the popular Rigatoni, but way smaller than Paccheri, we find this format an ideal solution for any thick gravy or richer sauce, especially if there's some little piece of meat that can be accommodated in its large empty belly. If you are thinking Carbonara right now, you're welcome. 


Monograno Felicetti | Spaghettoni Senatore Cappelli - The result of agronomic genius of one of the greatest unacknowledged Italian scholars and dedicated to Senator Raffaele Cappelli, this variety of hearty and robust wheat grain captures the sun of Puglia and the true and sincere flavour of the 1900s. When prepared by Felicetti's skilled pasta makers and combined with the pure water of the Dolomiti Alps, it gives warmth and colour with a straightforward, vigorous temperament. 
We chose the thick, toothsome Spaghettoni to enhance these peculiar qualities and improve every traditional or experimental pasta creation you can concoct in your kitchen.